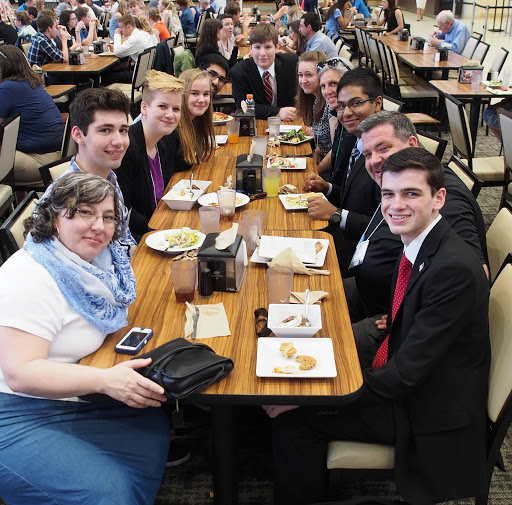 Dining & Snack options on Drury University Campus
Monday, May 23rd through Saturday, May 28th
Last Day to order meals: May 8, 2016
Campus Dining Options:
Meals will be served in the Commons Dining Hall located in the Finley Student Center (FSC)
Meal plan packages are available and provide a significant cost saving. The Drury CX, located in the middle of campus, has beverages including sodas, water and coffee as well as snacks, deserts and limited prepacked items. Families can purchase meal plans individually or in groups of four family members and will include meal tickets that allow family members to eat together or at different times as needed. Drury is also offering its drink-free-all-week mug for fountain beverages in the CX to families who purchase meal plan #4.
Meal Plans are on sale now and can be purchased at the time of registration at a discounted rate from prices at the door. The Drury Commons dining area will allow cash/credit card purchases during the tournament for lunch and dinner at higher price points. There is only one restaurant (Subway) within walking distance of campus but some restaurant options within a few miles of campus.
The Cafeteria is an All-You-Care-to-Eat program and provides a wide variety of items. Daily menu to include your choice of three Entrees options (one Vegetarian), two vegetables, starch, salad bar, desserts (including soft serve ice-cream) and assorted beverages. Dinners will also include an Action Station with food prepared to order.
Gluten Free and Allergies:
Drury Dining Services will be happy to work with you on any special food requirements you may have should you choose to dine in the Cafeteria. Please contact us at 417-873-7286 one week in advance of NITOC to set up any special needs you may have.
Gluten Free options will be available upon request and all items containing peanuts will be identified in the cafeteria.
Starbucks Coffee and assorted snacks and beverages will be available at the CX located in Springfield Hall.
Parents and parents serving as staff: Our judges hospitality area will not be offering meals in that venue. There will only be an offering of light snacks, tea and coffee for those who take ballots. Please purchase your meal plans accordingly.
Individual Packages are intended for 1 person to use, but can be shared.
Individual Package A: $40
6 All You Care to Eat LUNCHES in the Drury Commons (FSC) – Lunch only
Individual Package B: $80.00
12 Meals– All You Care to Eat LUNCHES AND DINNERS served in the Drury Commons (FSC)
Plus – Package B also includes 2 Drink-Free-All-Week souvenir mug redeemable all week for free fountain drinks in the Drury CX
Larger Packages are intended to be shared by a family
Family Package C: $150.00
24 All You Care to Eat LUNCHES in the Drury Commons (FSC) – Lunches only
Family Package D: $300.00
48 All You Care to Eat LUNCHES AND DINNERS in the Drury Commons (FSC)
(24 lunches and 24 dinners)
PLUS – Family Package #4 only also includes 4 Drink-Free-All-Week souvenir
mugs redeemable all week for free fountain drinks in the Drury CX
Door Rates for the Drury Commons in Finley Student Center (FCS):
Lunch: $8.00
Dinner: $9.00
All Children Meals (Ages 3-12): $4.00
Children 2 and under: FREE
Dining Commons Hours of Operation:
Monday, May 23rd through Saturday, May 28th
Lunch: 11:15am to 1:30pm
Dinner: 4:15 pm to 6:15 pm
Hours of Operation CX located in Springfield Hall
8:00am – 7:00pm